5-SESSION "TOGETHER FOR GOOD" MARRIAGE ENRICHMENT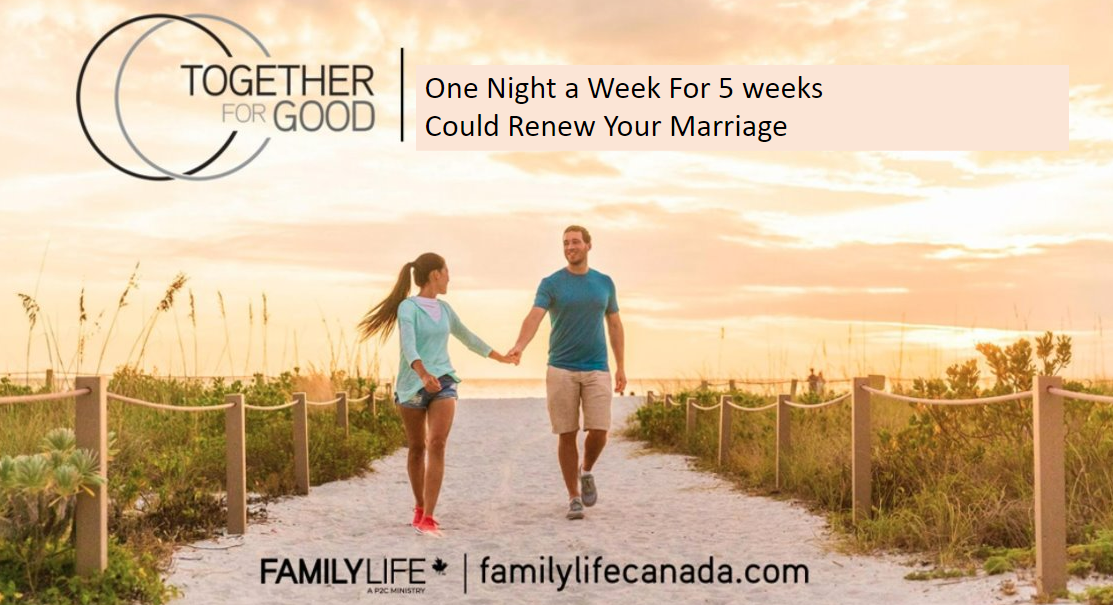 Together for Good is a video marriage workshop hosted by Neil and Sharol Josephson, the directors of FamilyLife Canada. ​This set of five sessions gives couples tools, exercises and guided conversations to grow a healthier, more joy-filled, and more resilient marriage.​ Each session helps them move past differences and drift to a place of greater closeness and trust. Couples learn how to strengthen the foundation of their relationship in the important areas of communication, conflict, sex and spirituality. ​​Couples who attended the last series all agreed they would recommend these sessions to their friends, and loved the DATE NIGHT atmosphere. We run this marriage series in the fall. Stay tuned for more info.
Free Webinar from FamilyLife
4 Weeks to Oneness – Webinar Series
Maybe you're a little tired of screens these days. That's why we've designed these short, 30-minute webinars to be fun, interactive and life-giving to your relationship!
Each Monday evening (Nov 8, 15, 22, 29) we'll cover a new aspect of oneness to strengthen your connection and deepen your intimacy.
Dates and Times
Monday Nights – Nov 8, 15, 22, 29
6:30-7:00pm (Pacific)


*If Mondays don't work for you, just pick another night to watch the recording.
Why not make November all about getting to know each other better, communicating more openly and deepening your friendship?!
4 Weeks to Oneness
FAMILYLIFE WEEKEND GETAWAYS
A Weekend Getaway is a marriage conference uniquely designed to enrich your relationship. For most couples it's a chance to reconnect, re-establish the foundation and rekindle romance. For others, it's a fresh start. For some, it will be the weekend that saves a marriage.
Wherever you're at in your relationship, this retreat is a weekend to remember. The atmosphere is relaxed and warm, even fun. You'll hear from real couples doing real life together… God's way. You'll be given time to process what you're learning. And together, you'll make a plan for a marriage that lasts a lifetime.
WEEKEND GETAWAYS