This event has already occurred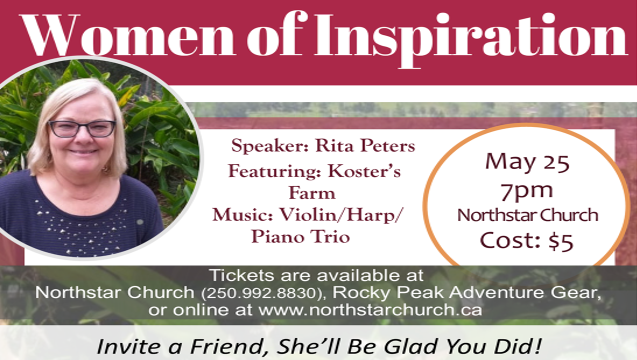 Save to your Calendar
Women of Inspiration Event
May 25 @ 7pm
Northstar Church
Cost: $5
Guest Speaker: Rita Peters
Rita Peters is a multi-cultured lady - born in Argentina, a Canadian citizen who has adopted children from Haiti and currently lives in Guatemala. She has a true mother's heart, having reared her own biological children, adopted several children from different countries and raised many others over the years. She is currently mom to over a hundred young people who allow her to speak God's truth into their lives. Come hear her truly amazing story.
Special Feature: Koster's Farm
Music: Piano/Violin/Harp Trio
Invite a Friend, She'll Be Glad You Did!
Please buy your tickets in advance
Tickets will not be available at the door